LIMITED EDITION
Contour Seamless Leggings - Wine
ENHANCE, BREATHE & PERFORM
Full length seamless knitted leggings with high-rise waistband
Combining beautiful stand out design with high-rise waistband and squat proof performance, the Contour Leggings seamlessly enhances, sculpts and uplifts your natural figure. Targeted laser cut ventilation and moisture managing seamless construction ensures you stay cool and supported through every rep.
High-rise waistband
Squat-proof performance
Fold-over waistband for custom coverage
Targeted contours enhance natural figure
Laser cut details increase ventilation
Soft, lightweight second-skin supportive fit
Zonal compression for enhanced support
V3 signature logo to front and back
95% polyamide, 5% elastane
Model is 5'2", wearing size XS
Product colour: wine
True to size fit
Need help finding the perfect fit? Our experts are here to help you find the right fit and to answer any sizing queries you may have.
View Size Charts     Contact Support
Easy Exchange & Returns
Put your purchase to the test and if you're not happy with the fit or performance, we've got you covered with an extended 45 day return period.
UK customers can also exchange any item for another size or colour of the same product style, simply click below to get started.
Worldwide Shipping
Free shipping for orders placed over:
| | | |
| --- | --- | --- |
|    £50 GBP |    $100 USD |    $146 AUD |
|    $140 CAD |    660 KR |    €88 EUR |
|    €88 EUR |    $295 NZD |    $140 SGD |
|    $812 HKD |    ¥11,000 JPY |    $105 USD |
Click here for a full list of countries we deliver to.
Easy Returns
Put your purchase to the test and if you're not happy with the fit or performance, we've got you covered.
When you shop at V3Apparel.com, you have an extended returns period of up to 45 days to return any items for a refund or store credit. To start a return, simply submit a return request through our Returns Center within 14 days from the date of delivery.
Once your return has been approved, return your item(s) within an additional 14 days to the return address provided for a refund or within 15 - 28 days for a gift voucher to the item(s) value. This will be sent to your email address for you to use on your next purchase.
Customer Reviews
06/04/2021
Lisa L.

United Kingdom
Beautiful colour
Looks great and doesn't fall down when lifting. Perfect fit on the waist and calves but a little too tight on the quads.
15/12/2020
Kirsty L.

United Kingdom
Amazing leggings!
Soft, stretchy, comfortable and flattering! I am so happy with my leggings and will definitely be buying more! They are true to size and are 100% squat proof - perfect gym wear!
23/11/2020
Carmela P.

United Kingdom
Contour leggings
Absolutely brilliant
14/11/2020
Amy M.

United Kingdom
10/10
Never bought from this brand before. Gym leggings are always a faff to shop around for. However, WOW, I am blown away by so many things. Material is perfect. Squat proof. So comfortable. So thick. Colour is beautiful. Contours my legs. Makes me look snatched! I am loving these! Next purchase will 100% be a pair of black ones. So reasonably priced. I'm so glad I found this brand!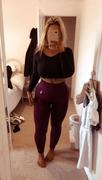 09/11/2020
Heenah A.

United Kingdom
2nd pair and just as good
These leggings are super comfortable. No wedge in your behind and no dropping during a squat. The colours are amazing and they wash really really well. Super happy with my purchase and will be looking to buy more of the new range